|Brief Profile|Promotors|Infrastructure|
We shall strive to achieve total customer satisfaction by providing consistent quality products at competitive price with timely delivery through continual improvement.
Ours is an ISO 9001: 2000 Certified Company having a Certification FM 88597 from BSI.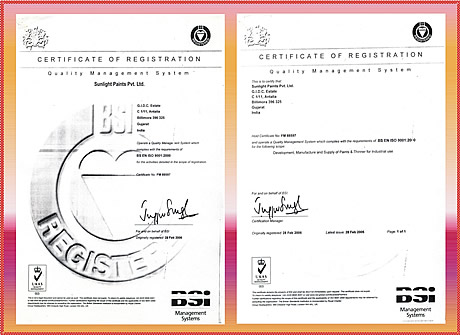 Quality Assurance, R&D and Strategic Alliances - pivotal resources.
We give a meticulous attention to the Products right from raw material to Final Production Stage. The presence of Sophisticated Lab Facilities allows us to put our products through a series of strict quality controls and tests.
Sophisticated testing and analytical instruments, colour computers and accelerated weathering equipment are used for developing and standardising products to maintain optimum quality. It is manned by experienced R&D and Technical Personnel to assist our clients during the testing process.
"A complete paint company, covering a wide gamut of Industrial and Decorative Market Segment."
We are having following types of quality testing instrument in our laboratory.
Hegman gauge
Viscosity Cup Flow Cup Viscometer
Wt. / ltr. Cup
Laboratory Oven
Compressor
Coating Thickness Gauge
Cross Cut Tester
Scratch Hardness Tester
Bend Test Apparatus
Analytical Balance
Laboratory Sand Mill
Colour Chart as per IS Specifications
Laboratory Stirrer
Our service to our customers does not end after the delivery of goods. Regular visit of marketing, technical and production personnel is part of our after sales service.
Our close relationship and interactions with our customers help us to be more sensitive to their needs. We recognize that customer service is an integral part in a customer/supplier relationship and that is why Super Paints' products and services are devoted towards a customer focus.
We effectively cover the Industrial Belts in Gujarat and Maharashtra due to our proximity to these areas.
Quality Testing Facilities & arrangement for Third Party Inspection
We are testing our products through various Government and Non Government Agency on regular basis. Our products are tested by National Test House - Mumbai, GIRDA - Baroda, Garware Institute of Career Education and Development - Mumbai, and various other Private Agencies. We can also arrange any Third Party Inspection of your choice.